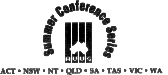 AUUG Canberra Summer Conference 97 Photo Album
The Eigth AUUG Canberra Summer Conference and Workshops series, organised by the Canberra Chapter of AUUG, was held at ANU in Feb 97.

To commemorate this event, a few photos were taken.

[Photos taken by me (Karl Auer) using a Kodak DC40 digital camera with a totally inadequate flash. Noone took any photos of me speaking, but I'm not bitter... -K]
---
David Baldwin, AUUG Treasurer: Presiding!
David Baldwin, AUUG Treasurer: Incoming!
David Baldwin, AUUG Treasurer: Listening to the OHP.
David Baldwin, AUUG Treasurer: Listening more closely to the OHP.
David Baldwin, AUUG Treasurer: Speaking to the OHP.
Jeremy Bishop, President of AUUG: A fine figure of a compere!
Jeremy Bishop holds the box while Jan Newmarch drwas the door prize.
Geoff Walker from the ATO wins a $50 voucher donated by Daltons Bookshop.
Peter Elford from Cisco declaiming about ATM.
Peter Elford and Jeremy Bishop lloking askance.
Peter Gray (UOW) demonstrating the pocket control module for his new beeper.
Portrait of Peter Gray.
Jeremy Laidman delivering the good oil on virtual servers.
Lunch is served!
More lunching delegates.
A delegate is observed secreting some food in his right shoe for later.
Paul Mackerras (UC) expounding on rsync.
Paul Mackerras, recovering after expounding on rsync. His mouth is stuck.
Jan Newmarch (UC) preparing his equipment for a talk on Java.
Jan Newmarch and Jermy Bishop seeking inspiration.
Rob Davy (ANU) blocks the flash. What a waste!
John Terpstra (Aquasoft), explaining the details of DHCP.
John Terpstra demonstrating DHCP. Name of helper unknown.
Andrew Tridgell (ANU) jogs on the spot while explaining how he and a few friends ported Linux to the AP1000+ one evening.
Andrew Tridgell continues to explain the Linux port.
Tired but happy, Andrew Tridgell relaxes on the podium.
Having successfully integrated the monitor, the microphone, a half-full coffee cup and the lectern, Andrew Tridgell begins porting Linux to the projection screen control system.
Brett Worth (SCT) and an unknown delegate sample the excellent morning tea.
John Wright (CSC) begins a dissertation on Performance Analysis.
John Write showing some of the passion that performance analysis can engender in a sensitive soul.
John Wright showing correct handwashing technique; a vital element in performance analysis.
---
Karl Auer / 19 Jun 97